Malaysia has a number of lottery operators and DaMaCai (Da Ma Cai) is one of them. If you're looking for yet another opportunity to test your luck, you may want to give some of the Da Ma Cai games a try. The portfolio is big enough, meaning everyone will find at least one opportunity to test out and enjoy.
What Is DaMaCai About?
DaMaCai was incorporated in Malaysia in 1988. The name of the company responsible for the management of number forecast totalizator games is Pan Malaysian Pools Sdn. Bhd. The establishment of this organization is guided by national regulations, mainly the Racing Act of 1961.
Today, the portfolio is pretty expensive and it features a number of Da Ma Cai games and lotteries (we'll take a look at the specifics below).
Da Ma Cai is actually a brand of Pan Malaysian Pools. It's entirely responsible for launching lotteries and games, overseeing the payment of prizes and allocating some of the funds generated through ticket sales to charitable and beneficial causes.
DaMaCai Lotteries in Malaysia
Due to the popularity of lotteries in Malaysia, the Da Ma Cai portfolio gradually grew to include a big number of opportunities. Here's a quick overview of the games and what they entail:
1+3D: this is a standard game in which you have to choose a four-digit number in the range from 0000 to 9999. You are also free to choose the size of the bet, which will obviously be responsible for the size of the prize in the event of winning. A big bet and a small bet are available, much like they are in the case of other 3D and 4D games.
1+ 3D Jackpot: a variation of the previous game, Da Ma Cai Malaysia 1 + 3D Jackpot has players choosing once again a pair of four-digit numbers in the range from 0000 to 9999. There's a minimum bet for the two and it's two ringgits per play. There are two jackpots – the first one is a minimum of two million ringgits and the second guaranteed jackpot starts at 100,000 ringgits.
3D: probably one of the most beloved games in Malaysia and the region, 3D has players choosing a three-digit number in the range from 000 to 999. There's once again a chance to place a bet that the player is comfortable with and to win in proportion to the size of the bet.
3D Jackpot: Da Ma Cai's 3D Jackpot is a variation of the standard 3D game that's available via various other lottery operators in Malaysia. Players have to select three sets of three-digit numbers in the range from 000 to 999. There's a minimum bet of two ringgits per entry and there's a minimum guaranteed jackpot of 600,000 ringgits.
Super 1+3D: to play Super 1 + 3D, you will have to select a four-digit number in the range from 0000 to 9999. There's a minimum bet of one ringgit per submission but it's up to you to decide whether you'd like to allocate a bigger amount to your entry. To win the biggest prize, your numbers will have to match the ones drawn for the respective category. In total, there are seven Super 1 + 3D prize tiers.
3 + 3D Bonus: choose two sets of three-digit numbers in the range from 000 to 999. Together, these form a six-digit number and you'll also have to pick one of the signs from the Chinese zodiac. The second portion of the bet determines whether you'll be entitled to a bonus. There are six prize tiers, the top one being 120,000 ringgits.
The History of DaMaCai
DaMaCai Malaysia already has a long history. Ever since 1988, the brand has been conducting draw-style games and increasing its portfolio to offer a bigger number of gaming opportunities in Malaysia.
In 2011, Jana Pendidikan Malaysia Sdn. Bhd. acquired the entire holding, including DaMaCai Malaysia. Through the acquisition, the structure of the organization was changed. Instead of being a for-profit organization, Da Ma Cai became a social business. As a result, portions of the funds generated through the sale of lottery tickets started being allocated to social causes in Malaysia.
The primary aim of the social charitable fund is to support education and the modernization of schools.
This is yet another reason why you should give Da Ma Cai games a try. Not only will you potentially win a nice sum, but you'll also be making a difference in terms of ensuring that children in Malaysia have access to quality education.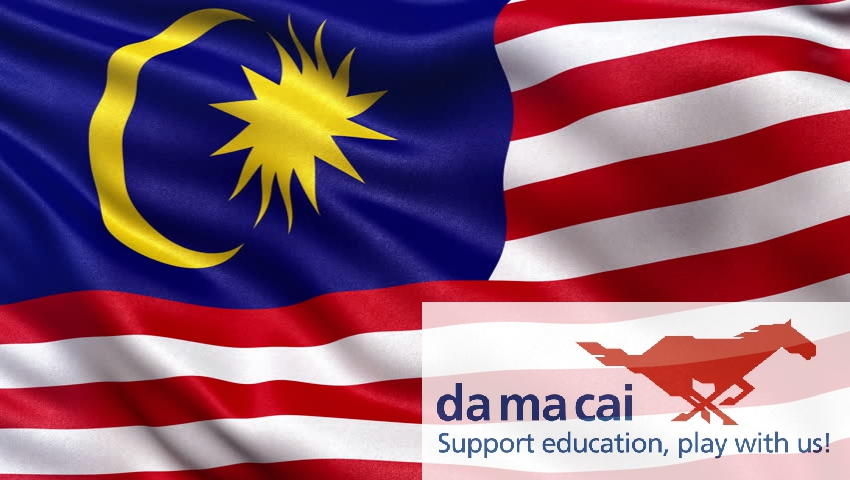 Is DaMaCai Legitimate or a Scam?
Da Ma Cai lotteries are completely legitimate and there's nothing to worry about when buying tickets.
As already mentioned, there is state legislature backing the activity of Pan Malaysian Pools Sdn. Bhd. These regulations aim to ensure the fair operation of lotteries.
Draws take place with a permission from the Ministry of Finance. Each drawing is observed by company officials, external auditors, and public witnesses. This structure makes it impossible for fraud or bias schemes to be carried out.
Can You Buy DaMaCai Lottery Tickets Online?
If you're interested in the Da Ma Cai games, you're probably wondering already how you can acquire your tickets.
At the time being, Da Ma Cai lottery games can be bought solely through the authorized retail venues throughout Malaysia. Both Malaysian citizens and people who are legally in the country can participate.
Those who live in another country do not have the chance to buy Da Ma Cai online tickets at the time being. Online lottery agents do not support the Da Ma Cai games.
Who Can Play DaMaCai Lotteries?
Da Ma Cai Malaysia lottery games are readily accessible to just about everyone.
As per Malaysia national regulations, you have to be aged 21 or older in order to buy lottery tickets. Players also have to be non-Muslim. Da Ma Cai retail outlets are open from Monday to Sunday and they have extended operation hours on draw dates. For more information, please visit the Da Ma Cai official website.
You don't have to be a resident of Malaysia to buy a lottery ticket. Foreigners aren't discriminated against and they can test out Da Ma Cai games as long as they have a visa/legal permit to be in Malaysia.
Where Can You Find DaMaCai Results?
Checking out the Da Ma Cai latest results is important because you have a limited amount of time to collect your prize. If you're a big lottery enthusiast, you may also want to analyze Da Ma Cai past results to identify hot and cold digits that will improve your odds of winning something in the future.
The DaMaCai result can be found on the official Da Ma Cai website. Both the homepage and the individual pages dedicated to the different games feature that information.
If you need another reliable source of information, you've come to the right place.
Our website is dedicated to giving you access to the latest DaMaCai results. You can go to the homepage, find the tab for the respective game you're interested in and click on it. You'll be taken to a review page that features both the latest results and an archive.
To access the archived results, scroll to the top of the page where you'll see a drop-down menu. From the menu, choose the date of the drawing you're interested in. you will see the numbers for the respective game and the respective date.